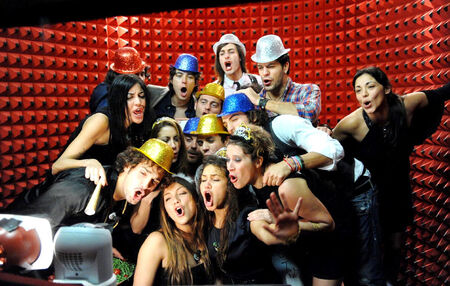 Welcome to Sarah & Veronica's Il Sogno Wiki
A wiki devoted the love story between Sarah Nile & Veronica Ciardi that began on Grande Fratello 10, that
anyone can edit
.
We are currently working on
39 articles
since January, 2010.
See our
help section
to find out how you can contribute!

Il Sogno Wiki in Italiano
- Collabora con questo wiki

Il Sogno Wiki en Español
- Colabora con este wiki
Hello Dream addict, we need your help!

Edit
Welcome to the crack house (ufos are real ;) ). This wiki is devoted to the love story between Sarah Nile & Veronica Ciardi on Grande Fratello 10, as an information database. All the pages are listed below under Navigate the Pages.
Addicts from all over, especially the Sarah & Veronica After Ellen forum started by Livia, we'd like to build a good timeline to this story. So basically keep doing what you're doing.. watching videos, get all giddy, and post it here!
We need as much help as possible to link the videos and story together. We want to create a complete a picture as possible. And that's what the motivations for each (and more not listed) items below are:
If you know what order the videos go, we want you!
If you know how to subtitle videos, we really need you!
If you know how to speak Italian, we adore you!
And all your help, your contributions, won't go unnoticed. Even something simple like pasting a video, or noticing a moment, including a reference or fixing a translation, or formatting will be so so greatly appreciated, by addicts just like you. Thank you!
If you have better suggestions as to how this page should be structured or organized, please don't hesitate to give it a go :)

The discussion should still be in forums (the AE forum has unfortunately been recently shut down), but this can be a place where all those posts can be organised: translations are posted, timelines are unfolded, special moments are noticed, and the whole story can be seen. This also helps to avoid double-posts, repeat requests, and to allow the story to unfold & grow. If you're interested, the Facebook group is a great place to get in touch with others who are fascinated by what's happened on GF 10. You can also get connected with us continuity addicts, and leave your mark here.

Vandalism is not cool, not cool. It would break many people's hearts if you act obnoxiously, as well as be hurtful to the time, effort & joy us followers have spent in dutifully creating these pages. If you want to mess around or experiment, do it in the General Sandbox.
Confused? No va confusa!
Edit
The Timeline is a good place to start to see how the this is structured and what's going on.
The Video Sandbox is also useful to check out.
.